One of the major challenges I'm facing at the moment with my Middle years class is the fact that they're still learning how to research properly. After attending a recent conference presentation by Ewan Macintosh, I decided to make UnGoogle-able questions a focus in my class, as a way of accessing not only Higher Order Thinking, but as a way of extending the complexity of my student's projects, honing their questioning skills and attacking the problem of answering more complex questions in detail at the same time.
At present, many of my students see projects as simple fact finding missions. Hit google, find some facts and arrange them into useful headings, follow this up by a quick rearrangement of sentences and ideas to avoid the dreaded plagiarism, and hand me a selection of facts I could have found for myself on Google. These are essentially lower order projects, and as highlighted by Ian Jukes recently, these skills aren't going to cut it in the real world of their future.
I'm aware that this is not their fault. I've not taught these skills explicitly enough, and it's something I've struggled with year in and year out for a while now. How do you move these projects to the next level?
The ideas Ewan talked about fit nicely with this challenge, and that of my parallel focus of teaching students employable life skills, teaching processes for success and using content as the delivery system. The idea I'm shooting for is that these higher order skills become transferrable to any topic and they become the basis from which students tackle any problems or tasks they face in high school and beyond.
So for most of last week, the discussion in my classroom has gone something like this…
ME: What is it we're learning about this week?
EVERYONE: EGYPT!!
ME: Wrong. We're learning about how to make and answer better questions, remember? We're just using Egypt as an example when we do it.
EVERYONE: *Nervous shufflings.* Can't we just do a project like last term?
I wanted to start up slowly, and so I've focussed more on the questioning than the topic so far, but even this toe-in-the-water start has made some students decidedly uncomfortable. I was asked today, mid-discussion on what it is that makes a question ungooglable, "Can we start now?" ( "I'll leave you to imagine the tone in which this was delivered.)
I'd made a powerpoint to lead the discussion, one that outlined how quickly Google gets stumped by questions as they move up the Higher Order Thinking Skills ladder. I demonstrated to the class that once the questions got hard, Google just started throwing words searches together in the hope of swinging an answer that I would find acceptable. The best example of the day was the question "Was the Sphinx a waste of money?", Google smartly searched 'Pyramids' and 'Money', and helpfully delivered a wide range of tourism packages to a bemused student group. It was the first inkling they had that Google might be fallible, I think…
Talking about why that happened switched on a few lightbulbs as well.
What we also discovered today was that most of our projects this year have hardly ever strayed past, understanding and summary. There were four more levels for us to explore. For those kids at the leading edge of the learning curve, this was great news. For those working hard to keep up, it was a bit deflating. I'm going to need a lot of scaffolding and support for these students, but in my opinion, this will force me to be detailed about how I teach the questioning skills. Not to mention the next step. Answering them.
The initial challenge is to create ungoogleable questions for our classmates to research in a few weeks time. The quality of the questions is the focus. "What kind of question will help someone demonstrate how much they've learned, rather than how many facts they've collected?" I asked them.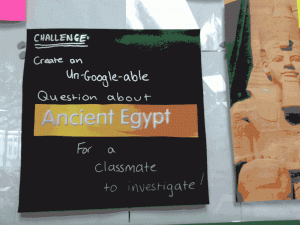 We broke up the Blooms questioning matrix and looked at the format of the questions in each. Then we had a go at making an Egypt-based question of our own that fit the format. So far we have only worked through FACTS, ANALYSIS and APPLICATION. The questions they have come up with were put on the wall to be used for the next part of the task.
There were a range of good questions that came out of this process. More than I thought, if I'm honest. Many of them will get us past the 'Summary' and 'Understanding' roadblock we're having, and once we finish the other three Question types, we will have more than enough high order questions for students to choose from. This is encouraging, but it also brought home to me how much scaffolding and support it will need for these students to keep thinking  about Higher-order questions.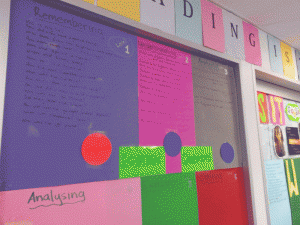 I'll need to be doing a lot of work to make sure that I'm ahead of them in this, because quite a lot of these pre-teen kids are skeptical of anything new as it is. If I'm not ready with solutions to the inevitable difficulties they face in actually answering these questions, then there goes the ball game.
I've already had some discussions about the direction this next phase should take. Ideas on how I might scaffold kids in the process of picking apart and answering higher order questions. PBL is a possibility, and I'm interested in the way the research project teaches skills over content. Both of these need some consideration, but I'm also keen on finding out what ideas other teachers are using  as well. I'd be interested in hearing how others are scaffolding the research skills needed to answer broader, Higher Order thinking questions in their classrooms.
As a first step, I'm encouraged by what we came up with, but I'm now more aware than ever that there is a lot of structure needed if this idea is to take off in my class.  I'm keen to discover what there is out there that might help me move this forward.